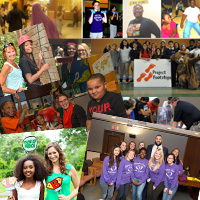 What is YIPA FEST?
YIPA FEST is a celebration of Youth Intervention workers and youth-serving organizations. It is a day full of learning, networking and fun! YIPA FEST builds upon YIPA's unique ability to bring together Youth Intervention providers from urban, rural and suburban communities. YIPA has always been the place to make new connections, re-connect with old friends and meet industry leaders.
YIPA FEST is FREE for YIPA members. Because this is such an important day, we invite those who are not YIPA members to attend at a nominal registration fee.
Breakout Sessions
Youth Performers
Keynote Speaker
Networking
2017 Keynote Speaker
Annie Meehan is a Speaker and a Life Coach based in Minneapolis, MN. After starting her career in corporate America, she is now seen as a powerful successful motivational speaker with heart and determination that awakens her audiences to action. Annie journeyed through life as the middle child of seven, raised by a single mom, and has many stories and life lessons to share. She has been a guest on Oprah and Twin Cities Live.
Save
In addition to being a popular motivational keynote speaker, Annie is also the author of a motivational books, Paths, Detours, and Possibilities & Be the Exception.
For more information on Annie's books and services, please visit her website.
2017 Agenda
8:00 am Registration Opens
8:30 am-9:00 am Youth Performers 
9:00 am-9:35 am Welcome and Opening Remarks
9:40 am-10:30 am Breakout session 1
10:35 am-11:25 am Breakout session 2
11:30 am-noon Networking
Noon-12:30 pm Lunch
12:30 pm-1:00 pm Youth Performers
1:00 pm-1:50 pm Breakout session 3
2:00 pm-3:00 pm Keynote
Logistics
September 15, 2017
9:00 am-3:00 pm CT
Registration and Youth Performers at 8:30 am
DoubleTree by Hilton Hotel Bloomington
7800 Normandale Boulevard, Minneapolis, MN 55439
FREE for YIPA members
$90 for Non-YIPA members
Not a member? Annual memberships are only $99 for individuals and only $250 for organizations! Click here to join or learn more.
YIPA FEST will count as 6 CEU hours for most boards.
Save
Save
All of the YIPA FEST Breakout Sessions are led by YIPA members
Read the 2017 Breakout Session Descriptions HERE
Exhibit Information
More than 500 youth workers, educators, and professionals working within the field of Youth Intervention will attend YIPA FEST 2017. Exhibit with us to expand your reach, tap into new audiences, and share information with those who will benefit most from your products and services. Exhibits are open all day during the conference including during breakfast, lunch, and networking activities. There are extended breaks between breakout sessions which give additional time for attendees to visit your exhibit table. 
Thank you to our sponsors