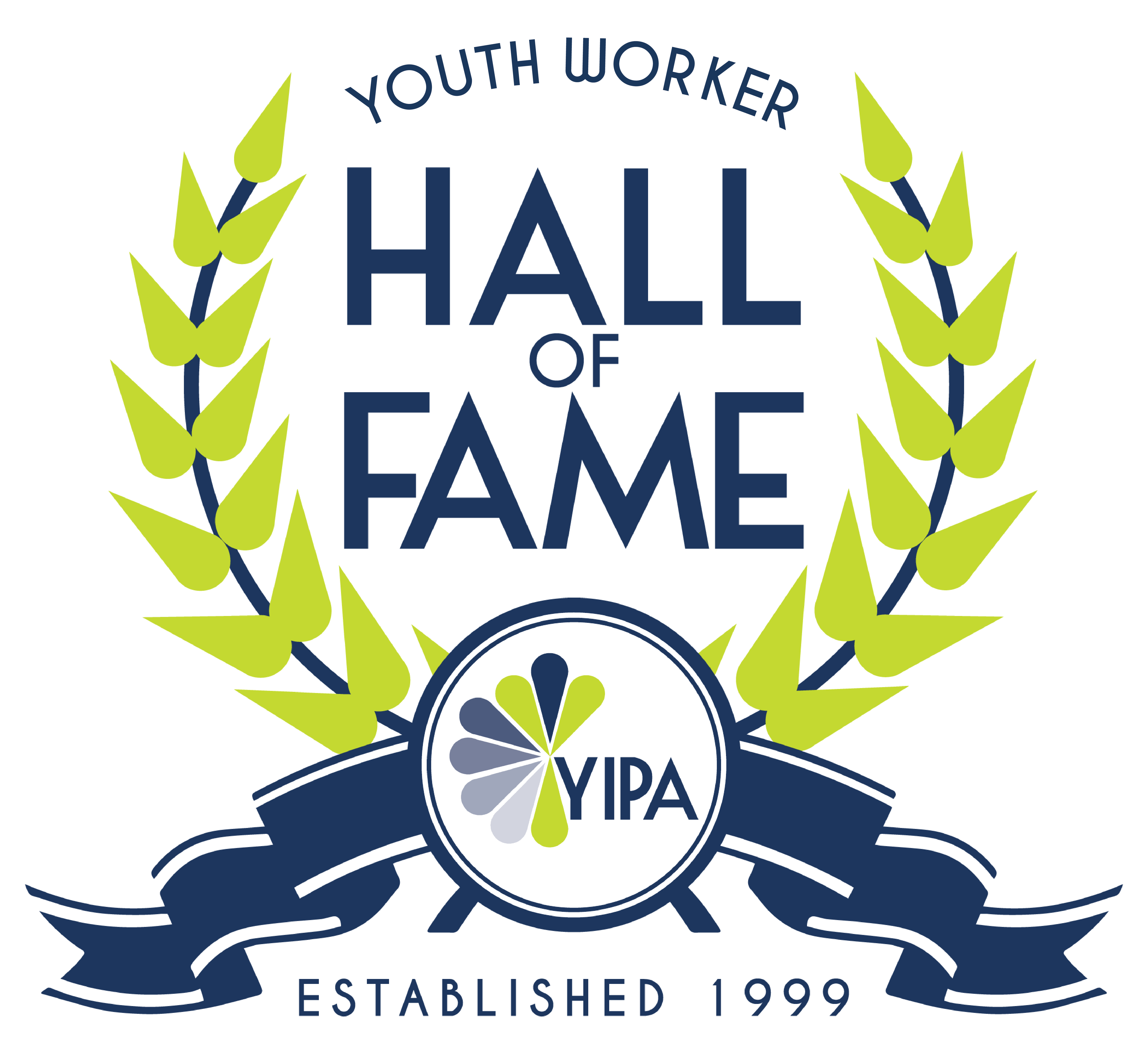 Youth workers and the people who support them do the vital work of guiding the positive development of our youth. In programs as varied as the needs of the youth they serve, youth workers bring heart, passion, and commitment to their work every day.
The Youth Intervention Programs Association (YIPA) recognizes the greatness in all youth workers. To shine a bright light on the value of youth workers and the strong allies who support them, our Youth Worker Hall of Fame features their amazing work through the Friends of Youth Leadership Award (FYLA).
You – our members – nominate your top performers for the Friends of Youth Leadership Award. YIPA also chooses one dedicated volunteer for the Outstanding Achievement Award (OAA).
The Friends of Youth Leadership Award is your chance to showcase an individual who goes above and beyond to help our youth positively develop their unique skills and talents. Your superstar could be a volunteer, a staff member, a program leader, a director, a philanthropist, an elected official, or even a young person themselves. Nominations are accepted each year during the month of October. Nominate your superstar now!
The deadline to submit your nominee is Sunday, October 31, 2021. The winners are inducted into the Hall of Fame at the Virtual Annual Meeting of the Association each year in December. This year the meeting is on Friday, December 3, 2021 from 10:00 am to 11:30 am Central Time. Remember, you must be a current YIPA member to submit a nomination.
"Dedicated" One of Ed's students was sad when her family moved out of our neighborhood. Ed kept her enrolled online so she could continue to receive academic assistance and connection with friends. Ed checked in with the parents frequently to make them aware of support services. He delivered needed school supplies and books to their new home and was a trusted source of support during a difficult transition.
I admire Ed's extraordinary dedication, wrote Julie. He puts everything he has into his job. His creativity shines in the engaging activities he plans. He has a strong commitment to quality and is a leader as well as a team player. Ed generously shares his knowledge as a member of Keystone's Diversity and Inclusion Committee; as an Out of School Time professional development trainer; and as a board member for the Minnesota Association for the Education of Young Children.
Ed leads an elementary classroom in a community center after school. His students face multiple challenges such as poverty, English as a second language, and special needs. Ed plans engaging activities including arts, STEM, cooking, and gardening, and he's a firm believer in the power of play. Ed guides difficult behaviors with a caring, individualized approach. One of his students said, "He's funny and nice, and he can fix a lot of problems without being mean." Nominated by Julie Murphy
"Special" Due to covid, Caitlin had to make difficult changes this year as many kindergarteners fell behind academically, and most of her families had language barriers and couldn't help their children. Caitlin devotes some of her administrative time to teach them herself and uses what she learned in Honduras to create curriculum geared towards their learning capabilities. She is determined to not let these young people fall through the cracks and it is evident every day I work next to her.
Caitlin's dedication to the program is absolutely outstanding. She goes above and beyond her duties as a Youth Program Coordinator to ensure that all the youth's academic needs are being heard and met. When they need help, she is there. When they need extra support, she finds it. If they are falling behind, she finds those extra supports to help them. She is incredibly supportive and helps out her fellow co-workers each and every day too. She is my sounding board and my venting friend. I couldn't ask for a better co-worker, friend, and mentor than Caitlin.
This past summer, Caitlin created a weekly food distribution plan and ensured that youth who have fallen behind in reading have a Study Buddy. She helped families gain access to technology and connected with families daily to make sure things are going all right at home. She even uses her own time to tutor young people. Caitlin is there for each and every family. Nominated by Sara Morris-Perry
"Dedicated" Working with Ms. Nancy, I know personally that she always puts the girls in our program at the forefront of her decisions. She supports them in every way – academically, when they need to vent or talk, or playing games to connect. She is amazing at relationship building and makes the girls feel welcomed, empowered, and supported. Nancy is an influencer on all her students. She ensures they speak their mind and embrace their truest self. She puts their needs and interests first.
Nancy is very resilient and strong. She uses the struggles she overcame as a young Hmong woman to become the confident strong leader that she is today. She stays true to herself with her head held high and doesn't let small things get in the way of her routines. I admire that Nancy can be herself around her students, team, mentors, interns, and community. She is authentic and her self-confidence makes her likeable and easy for the girls to connect with.
Nancy goes above and beyond in her lesson planning. She works with girls who are of immigrant and refugee backgrounds and various ages and is able to execute different activities and conversations with them based on their individual needs. She carries out empowering and creative actives and pushes the girls to take initiative within the program. Nominated by Zamzam Dini
"Fearless" Kristi is a support specialist at Minnesota Virtual Schools and is tireless in getting to know each of the students and their families. Before covid, she would drive all over the metro area and outstate to meet students in coffee shops and their homes to offer her help and support. Her efforts play a big role in helping students stay in school and earn a high school diploma. Aside from academic and moral support, Kristi is often on the front lines of helping to organize food and shelter for families who find themselves in dire circumstances.
Our principal calls Kristi "fearless" because she isn't afraid to challenge him on decisions about students with which she disagrees. "She has a passion for finding ways to help our kids," he says. "She has a vision and she always stretches herself. She doesn't ask permission, she just says, 'this is what I'm doing – are you okay with it?'" After working late into the evening after a school day, Kristi often volunteers with youth at her church.
Kristi is determined to help youth with risk factors succeed in school and earn their high school diploma. Kristi is a coach, a cheerleader, a role model, and a friend to the students and families she supports. It is not possible to quantify how many young people she has inspired, mentored, and supported in their quest towards graduation. Nor is it possible to underplay the critical role she plays in the lives of teenagers and their families who are hanging onto everything by a thread. Nominated by Kris Killian
"Persistent" Allie has been an active YIPA member since 2012. Throughout that time, she's been a tireless supporter of YIPA and continues to help drive our mission forward. Whether it's leading trainings, attending meetings, supporting social media initiatives and the training committee, giving podcast feedback, or donating money, Allie always chooses to step up and volunteer her time, knowledge, and skills so YIPA can do its best work.
Why does she do all this? It's because of how much she cares for young people, for youth work professionals, and for advancing the field of youth work to better serve our communities. Allie's belief in the potential of young people, and her commitment to their positive development aligns perfectly with the vision and mission of YIPA.
Allie started her career in youth work but her work has since evolved into various leadership roles to assist with effective communication and to develop impactful training programs. It's not all business, either. It's about human connection. If you're working on a project with Allie, she'll want to pause for a check in and is willing to be vulnerable if you are, too.
Every position she's had comes together in a unique and beautiful perspective. Allie is thorough, thoughtful, humble, and grounded in everything she does. She's the definition of a lifelong learner and her sense of enthusiasm and curiosity means she'll never stop growing.
Past FYLA Inductees
Class of 2019: Christine Kustelski, Julie Green, Kathy Welch, Mary McRoy
Class of 2018: Adam Gau, Jenilee Drilling, Nikki Monette, Rica Rivera
Class of 2017: Andrew "Drew" Lemmie, Chandra "CeeJay" Jackson, Natalie Johnson Lee, Sherenia Gibbs
Class of 2016: Susie Bjorklund, Rita Younger, Christina McCoy, Phil Winger
Class of 2015: Gary Keifenheim, Erich Lutz, Ruby Cortez
Class of 2014: Alec Staffon, Ehyrn Barthelme, Eriann Faris, Shari Barmash
Class of 2013: Julie Hignell, Loralee Marvin, Lisa Crocker, Senator Scott Dibble
Class of 2012: Patty Wetterling, Mandy Meisner, Kate Swenson, Louis Ochoa
Class of 2011: Maria Kustritz, Dean Prince, Steve Smith, Cathy ten Broeke, Akeel King
Class of 2010: Patty Halvorson, Lisa Hoogheem, Paul Weiler, Mayor Scott Lund, Commissioner Gail Dorfman
Class of 2009: Talia Beck, Doug Hovelson, Meredythe Jones Rossi, Krista McFarland, Quintin Jackson, Erin Rasmussen, Mayor R. T. Rybak
Class of 2008: Guadelupe Gadea, Angela Gonzalez, Autumn Nelson, Mayor Bob Nelson, Patsy Boen, Ronald Evans, Jr., Jenny Hong, Girls RAP Program of the YWCA of Minneapolis
Class of 2007: Montrell Donaldson, Chief John Harrington, James Backstrom, Mike Loud, Nick Schuum, Pam Rusten
Class of 2006: Jason Christen, Senator Sam Dallas, The Smith Foundation, Darrell Thompson
Class of 2005: Yusuf Abdullah, Cass County Commissioners, Lynn Haglin, The Ordean Foundation
Class of 2004: Chris Ganzlin, Terry Troy, Real Estate Equities, Inc.
Class of 2003: Marc Ashton, Representative Karen Clark, Mariah Docksteader
Past OAA Inductees
2019: Darrell Thompson
2018: Bob Sherman
2017: Chris Aldrich
2016: Lisa Meunier
2015: Kathy Tingelstad
2014: Tamar Ghidalia
2013: Connie Landecker
2012: Colleen Fritsch
2011: Talia Beck
2010: Peter Geier
2009: Paul Ramsour
2008: Cheryl Meld
2007: Paul Meunier
2006: Cathy Bergh
2005: Paul Weiler
2004: Kelly Peterson
2003: David Wilmes
2002: Steve Commerford
2001: Brian Dahl
2000: Cheryl Jensen
1999: Perry Lofquist