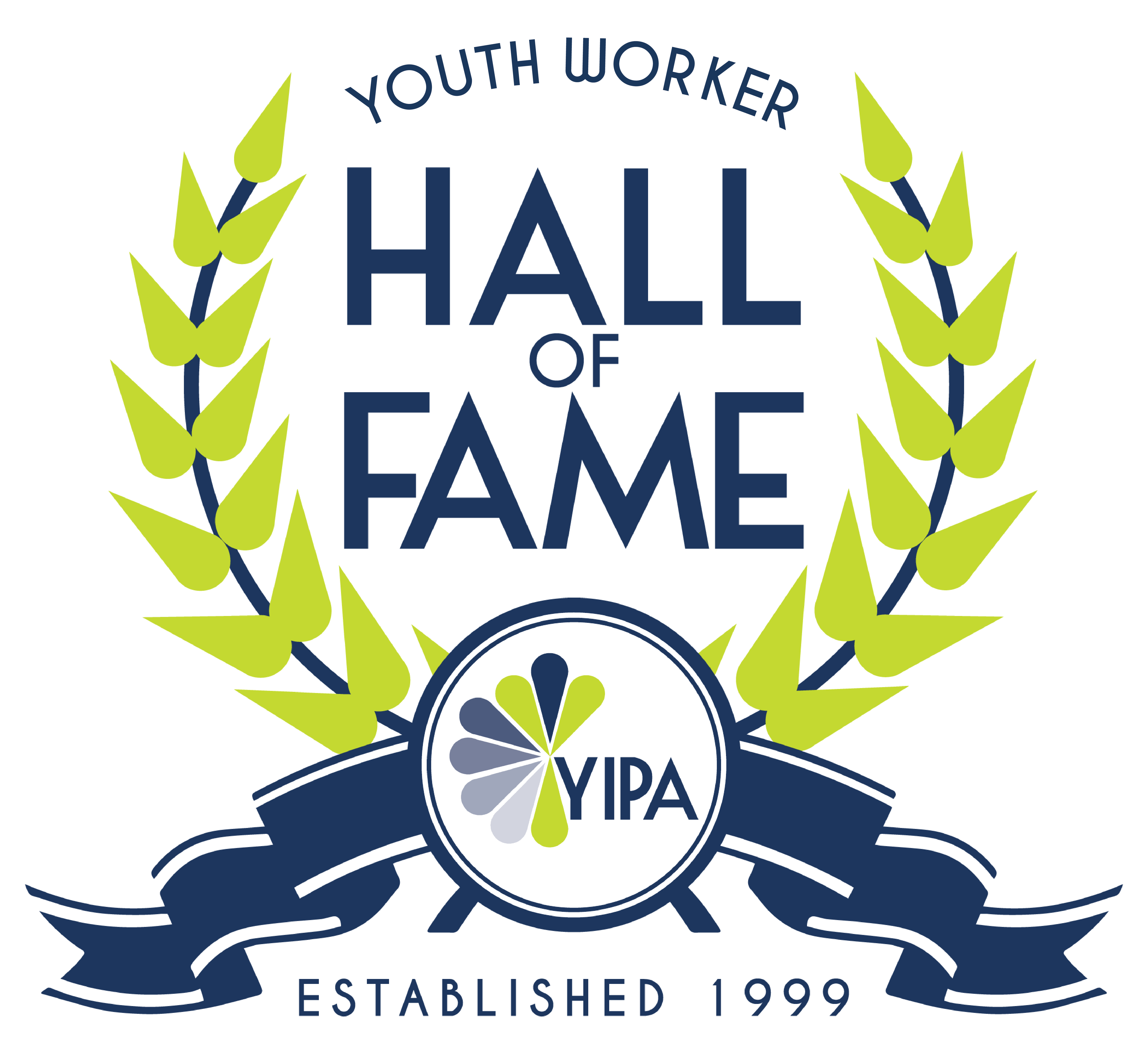 Youth workers and the people who support them do the vital work of guiding the positive development of our young people. In programs as varied as the needs of the youth they serve, youth workers bring heart, passion, and commitment to their work every day.
The Youth Intervention Programs Association (YIPA) recognizes the greatness in all youth workers. To shine a bright light on the value of youth workers and the strong allies who support them, our Youth Worker Hall of Fame features their amazing work through the Friends of Youth Leadership Award (FYLA).
You – our members – nominate your top performers for the Friends of Youth Leadership Award. YIPA also chooses one dedicated volunteer for the Outstanding Achievement Award (OAA).
The Friends of Youth Leadership Award is your chance to showcase an individual who goes above and beyond to help our young people positively develop their unique skills and talents. Your superstar could be a volunteer, a staff member, a program leader, a director, a philanthropist, an elected official, or even a young person themselves. Nominations are accepted each year during the month of October. The winners are inducted into the Hall of Fame at the Virtual Annual Meeting of the Association each year in December. Plan to nominate your superstar in 2022!
Bobbie Bement
Consistent
Port Group Homes, Minnesota
Nominated by: Sunny Heikkenen
Bobbie is an overnight staff who doesn't get the recognition she deserves due to her shifts being fulfilled when the youth are asleep. But Bobbie stays late every day to have interactions with them and have those difficult conversations that many other staff may not want to face. She does the hard work, the difficult conversations and always teaches them about self-accountability. She takes extra time to encourage young people in ways that some others don't by writing positive notes to them regarding their successes so they can carry it throughout the day. The youth WANT Bobbie's approval and praise and they feel good knowing that she is proud of them whether it be in the moment or throughout their program. BOBBIECHINO is a rockstar!
She has lived, man! Her experiences are real, so she is very easy to look up to. She shares the same passion I have with these children and the importance of our time spent with them. She's got our backs as a team member and I can ALWAYS count on her, rely on her, and trust her even if all I need is an ear or a hug. Her consistency is a trait that helps our program run smoothly and sets the bar throughout the group home.
Her knowledge of so many areas throughout youth work and life experiences give the youth so much insight and life lessons. She lets them know that their goals are limitless and that they hold individual potentials that will lead them to greatness. She teaches them that accountability is a must in order to strive to one's best self.
Norita CHarfauros
Passionate
Manelu, Guam
Nominated by: Samantha Taitano
Nori has been the driving force for our one-to-one youth mentoring program where she personally matches youth with positive adult role models. She also manages our site programs and builds relationships with kids and parents, going door to door to invite them to our programs. During her time with the organization, she has touched so many youths' lives, sharing her stories and experiences, and providing them with opportunities to create different paths for their lives.
Nori is truly wonderful with youth. She has a motherly way about her that is very caring and loving, but also provides sternness and structure that sometimes the kids we work with lack. She knows how to handle each situation with ease and experience and is an expert in adjusting to any situation. Whenever we have new team members start, she always shares with them the importance of having a plan but also being flexible when your plan doesn't work.
Nori conducts all the interviews with both youth mentees and mentors. She has also become the rock for many youth who come out to our out-of-school site programs that are run either out of a community center, or underneath a pop-up tent. She encourages youth to look beyond what they see every day and to strive for more. She has a heavy focus on preparing youth for the workforce by providing work readiness workshops and connecting youth with internships afterwards.
Ta'Shena Sams
Dedicated
Grand Traverse Band of Ottawa and Chippewa Indians, Michigan
Nominated by: Kaylie Hutcheon
Prior to working for the Grand Traverse Band of Ottawa and Chippewa Indians, I taught in a local school with an Anishinaabe population. I always heard my students speak about culture and if they didn't know something they would say, "We can ask Ta'Shena later!" Students trust they can turn to her for answers.
Ta'Shena is a dedicated and determined person. She has worked in youth services for the Grand Traverse Band of Ottawa and Chippewa Indians for twenty years. She speaks her mind, asks many questions, and is a fountain of knowledge regarding how the tribe operates as well as cultural traditions.
Ta'Shena has a vast knowledge of the Anishinaabe culture and traditions and designs monthly projects to ensure the traditions are taught to the youth of the Grand Traverse Band of Ottawa and Chippewa Indians. She designed monthly activities to pass on these traditions even in a pandemic. For example, during the month of November, the Anishinaabe people celebrate All Souls Day. One of Ta'Shena's projects was to harvest red willow and make project bags to distribute to the youth so they could make crowns to celebrate their loved ones that have passed.
Kenny Kraft
Faithful
Youth Investment Foundation/Timber Bay, Minnesota
Nominated by: Charity Knauff
Kenny Kraft has been working with kids through the blessing of Timber Bay since 1971. He is now 70 years old and is still mentoring, caring, and supporting youth. He worked with me for 3 years starting when I was 12 and again when my dad died 11 years ago, supporting me through the hardest times in my life. He has helped me start a Timber Bay Area in Birchwood WI. Kenny has impacted hundreds of young people's lives over the past 50 years and he still has deep meaningful relationships with many of them.
I admire Kenny's compassion, faithfulness, dedication, and drive. He has never given up or taken a sabbatical in 50 years. He continues to overcome obstacles and make a way for young people to have a place to belong and feel accepted. Kenny is a great man of character who has dedicated his whole life to loving and supporting youth.
For 50 years Kenny has met with kids in his community weekly. He also brings them to WorkCrew camps to learn how to work with others and gain confidence in developing new skills like splitting wood, building decks, planting trees, laying sod, painting, and staining. He also takes youth on wilderness trips into the Boundary Waters, and the Wolf River to learn about themselves, how to work together, and overcome obstacles inherent on these trips.
Brandon Jones
Brilliant
Minnesota Association for Children's Mental Health, Minnesota
Selected by: Your friends at YIPA
Brandon simply does it all; he's a professor, a therapist, a consultant, and he recently became the executive director of the Minnesota Association for Children's Mental Health. He's also one of the best youth worker trainers there is. Brandon is always willing to work with us and has created a variety of trainings that are custom to the needs of our members. Great trainers have a way of encapsulating concepts into easy-to-understand terms. He is so good at naming concepts including one we use a lot…youth work is social justice work.
Brandon is willing to adjust and be flexible, and he is also forgiving. When we were in the early days of developing The Passionate Youth Worker podcast, he was one of our guests. We recorded it and he was a super guest, but I was completely unhappy with my own performance. I explained that it was not up to par to share with our members and asked if we could record another episode. Brandon didn't hesitate and agreed to remake it and it turned out better for you, the people Brandon cares about.
Brandon is a team player. He's also hosted and been a guest for our Virtual Community Forums, and he provided an inspirational recorded message for our Art & Science of Youth Work certificate course. It's so easy to see how much he cares about you and your work, and how dedicated he is to the field of youth work and young people themselves. Brandon will do whatever it takes to help us serve you better and we couldn't be prouder to present his incredible work to you because we know it makes you better.
Brandon, you are brilliant and make us all reach for new heights in our work. Our YIPA community is better, stronger, and bolder because of you.
Past FYLA Inductees
Class of 2020: Ed Steinhauer, Caitlin Ignasiak, Nancy Vang, Kristi Thao
Class of 2019: Christine Kustelski, Julie Green, Kathy Welch, Mary McRoy
Class of 2018: Adam Gau, Jenilee Drilling, Nikki Monette, Rica Rivera
Class of 2017: Andrew "Drew" Lemmie, Chandra "CeeJay" Jackson, Natalie Johnson Lee, Sherenia Gibbs
Class of 2016: Susie Bjorklund, Rita Younger, Christina McCoy, Phil Winger
Class of 2015: Gary Keifenheim, Erich Lutz, Ruby Cortez
Class of 2014: Alec Staffon, Ehyrn Barthelme, Eriann Faris, Shari Barmash
Class of 2013: Julie Hignell, Loralee Marvin, Lisa Crocker, Senator Scott Dibble
Class of 2012: Patty Wetterling, Mandy Meisner, Kate Swenson, Louis Ochoa
Class of 2011: Maria Kustritz, Dean Prince, Steve Smith, Cathy ten Broeke, Akeel King
Class of 2010: Patty Halvorson, Lisa Hoogheem, Paul Weiler, Mayor Scott Lund, Commissioner Gail Dorfman
Class of 2009: Talia Beck, Doug Hovelson, Meredythe Jones Rossi, Krista McFarland, Quintin Jackson, Erin Rasmussen, Mayor R. T. Rybak
Class of 2008: Guadelupe Gadea, Angela Gonzalez, Autumn Nelson, Mayor Bob Nelson, Patsy Boen, Ronald Evans, Jr., Jenny Hong, Girls RAP Program of the YWCA of Minneapolis
Class of 2007: Montrell Donaldson, Chief John Harrington, James Backstrom, Mike Loud, Nick Schuum, Pam Rusten
Class of 2006: Jason Christen, Senator Sam Dallas, The Smith Foundation, Darrell Thompson
Class of 2005: Yusuf Abdullah, Cass County Commissioners, Lynn Haglin, The Ordean Foundation
Class of 2004: Chris Ganzlin, Terry Troy, Real Estate Equities, Inc.
Class of 2003: Marc Ashton, Representative Karen Clark, Mariah Docksteader
Past OAA Inductees
2020: Allie Birdseye-Hannula
2019: Darrell Thompson
2018: Bob Sherman
2017: Chris Aldrich
2016: Lisa Meunier
2015: Kathy Tingelstad
2014: Tamar Ghidalia
2013: Connie Landecker
2012: Colleen Fritsch
2011: Talia Beck
2010: Peter Geier
2009: Paul Ramsour
2008: Cheryl Meld
2007: Paul Meunier
2006: Cathy Bergh
2005: Paul Weiler
2004: Kelly Peterson
2003: David Wilmes
2002: Steve Commerford
2001: Brian Dahl
2000: Cheryl Jensen
1999: Perry Lofquist